Introduction
Our license plate relocation kits are designed to have some adjustability for either aesthetics or to work with various vehicle functions. However, depending on your trim level and options, there may only be one side or position that works best with our license plate relocations kits.
Ford
Depending on vehicle options or aftermarket upgrades, you may need to spend a couple extra minutes deciding where to mount the license plate bracket to the steel backer plate. The slots on the backer plate offer a ton of adjustability to where your license plate will eventually sit. If you are finding that sensors or lights are blocked, you may just need to move the backer plate up or down a slot to alleviate the issue.
On your Bronco, you may find that the License Plate Relocation Kit gets in the way of your fog lights or tow hook, again, depending on options and aftermarket accessories. Many Bronco customers choose to simply cover the tow hook slightly on one side and remove their front plate bracket all together when off-roading (a good idea anyway).
Rivian
If you have a Rivian, we designed our license plate bracket to have some lateral adjustment on the tow hook. It may take some trial and error with placement (both bracket and backer plate) in order to prevent vehicle sensors from being triggered. We go over this process in more detail during our install guide video.
Because the Rivian uses a series of ultrasonic proximity sensors to help with parking and so on, it's important to use care when placing the bracket on the tow hook. Each of the two sensors has a cone-shaped range but because the sensor furthest from the center of the vehicle is at an angle, it's best to favor that side slightly. See below.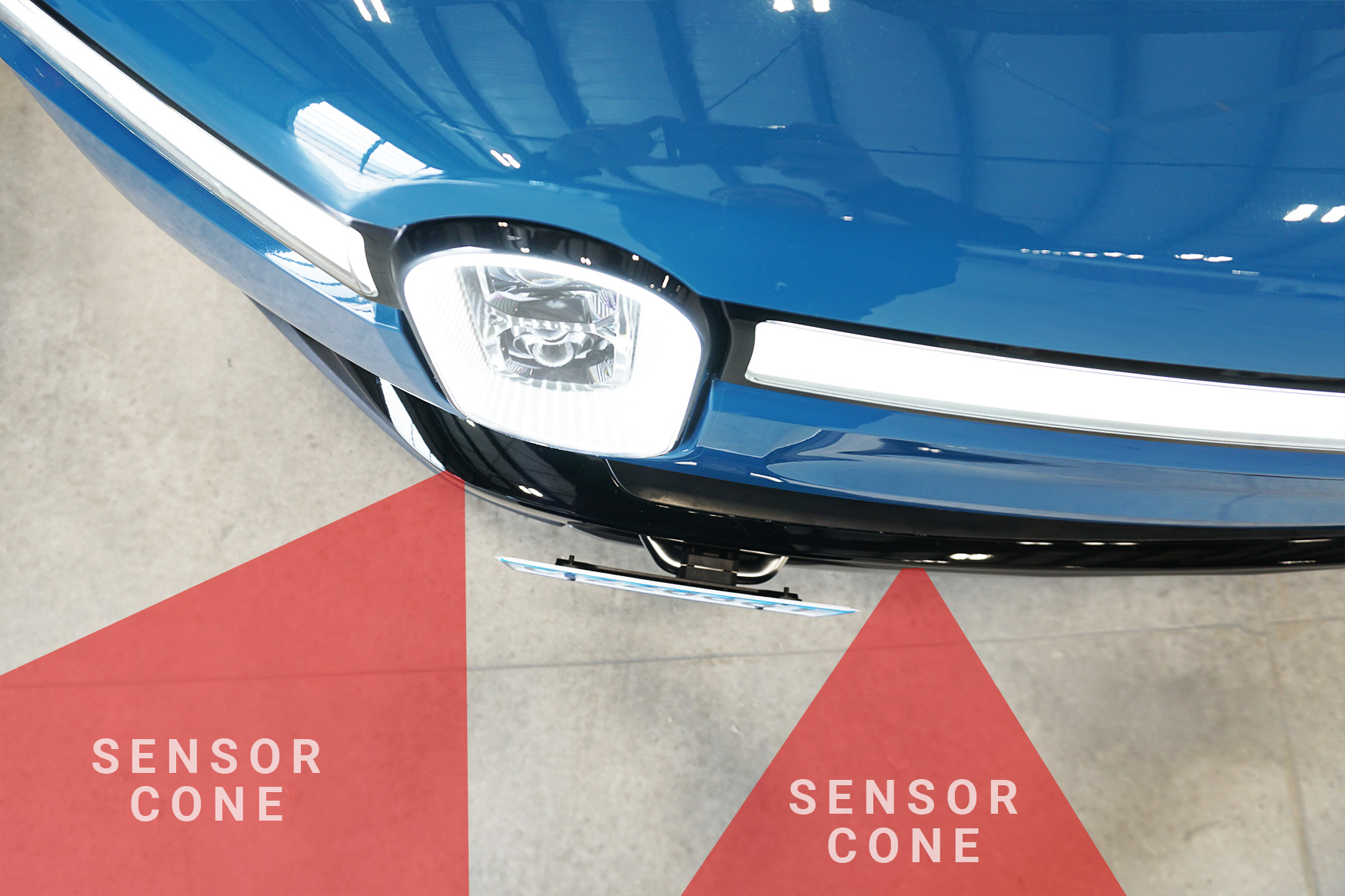 We have a recommended location that's proven to be a reliable way to mount the plate with no sensor obstruction. Use the image below as a reference. You may find that once installed, you still need to shift the composite pieces side to side on the tow hook to fine-tune placement and that's just fine.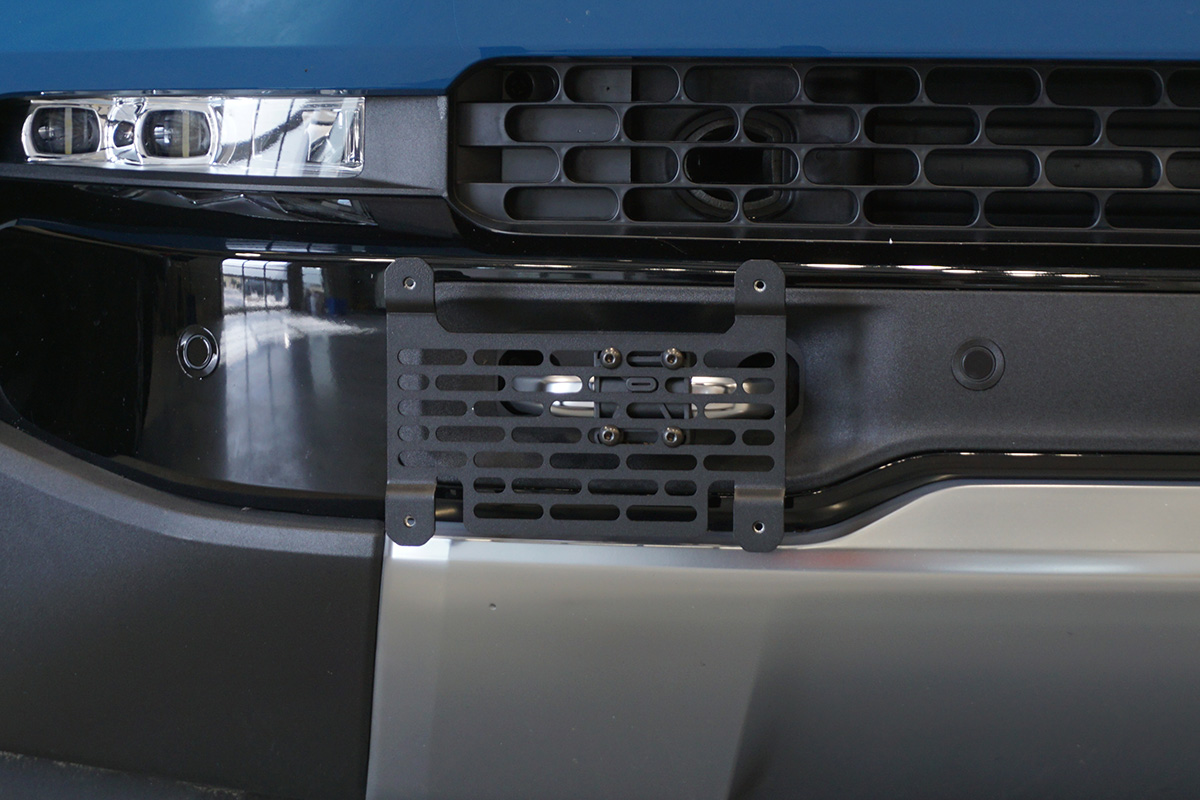 If you are still having issues with license plate placement, please feel free to contact us and we will get you sorted.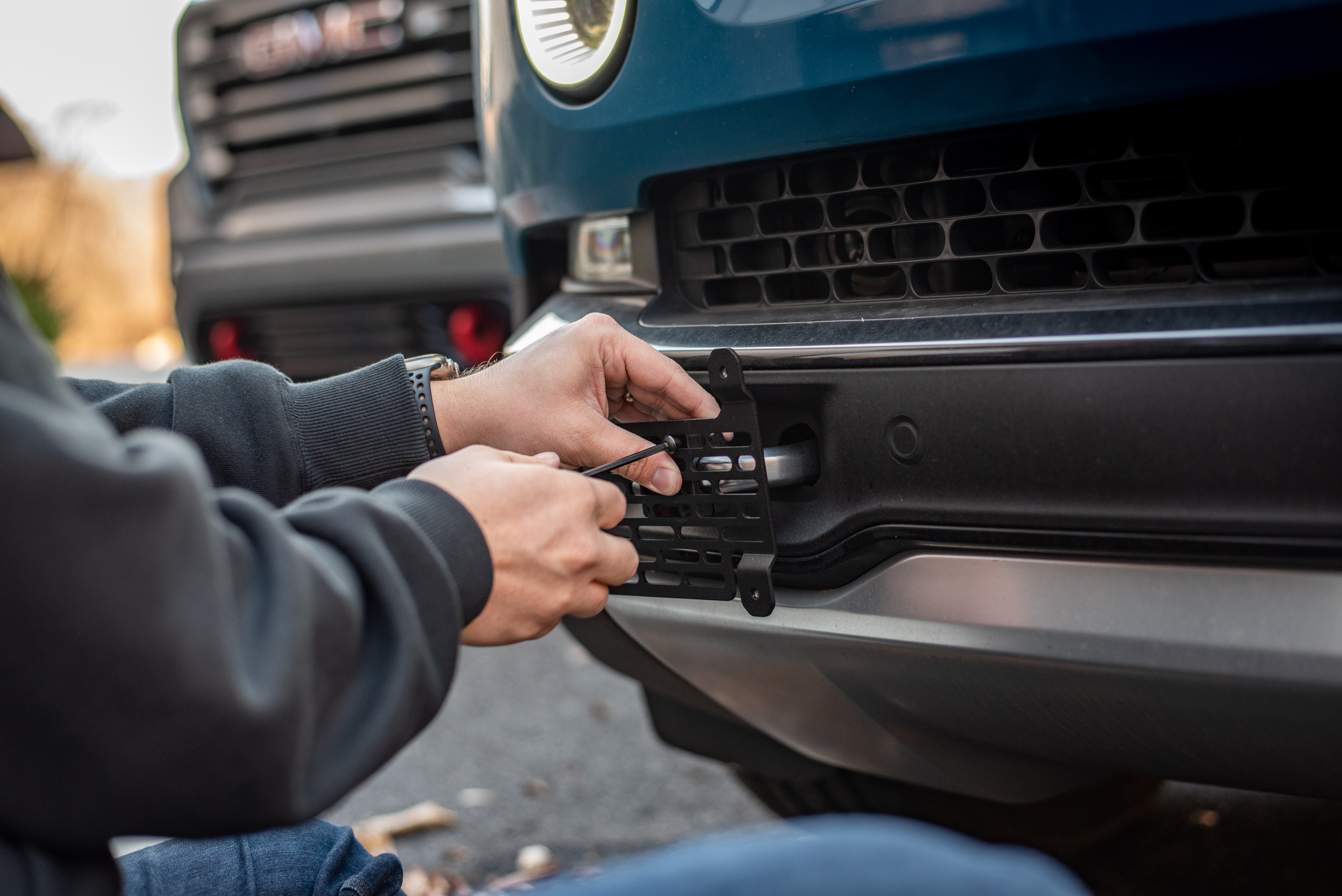 Related Content
106111 | Ford License Plate Mount | Ford F-150 (2021+)
106101 | Bronco License Plate Mount | Ford Bronco (2021+) For Standard Plastic Bumper
106102 | Bronco License Plate Mount | Ford Bronco (2021+) For Modular Steel Bumper
106112 | Rivian License Plate Relocation Kit | Rivian R1T & R1S (2022+)
Can you go through a car wash with a License Plate Relocation Kit?